Fishing for Vintage Tanks
By Melanie J. Martin as reprinted from AntiqueWeek- March 8th, 2010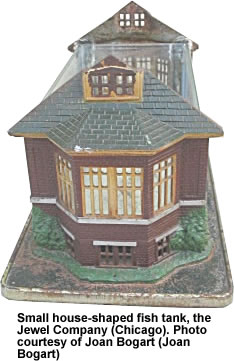 Small house fish tankToday,many fish tanks come in a standard rectangular shape, notable only for itsconformity. They have become a humble sort of decoration, a mere vehicle for housing brightly colored fish and other aquatic life. And yet, numerous fish tank designers of the past have thought outside of the proverbial box, especially in the Victorian era. They often feature artfully designed pagodas and elaborate carvings on the tank itself, and many sell for thousands of dollars, or even tens of Victorian Egret Fish Tankthousands.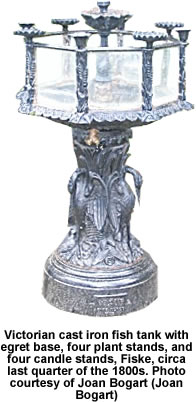 Many of the most sought-after fish tanks originate from the Victorian era. In the 1850's, interest in sea creatures soared, as Vernon N. Kinsling says in Zoo and Aquarium History. People were becoming fascinated by nature, although they generally liked to enjoy it in a manner that was palatable to Victorian tastes. Often, this meant enjoying a few select specimens as a novelty within the familiar environment of their home.
To gather these plants, animals, and the ocean water they thrived on, Victorians made frequent excursions to the seashore armed with jars, pots, or buckets. Such a trip stirred much excitement, since people knew little about the depths of the ocean at that time. Any treasures that washed up on the shore fascinated and delighted children and adults alike.
The fish tanks Victorians used were often quite stylish and ornate. Sometimes they sat atop pagodas and had a six or eight-sided shape that fit into the stand. Many had a cast iron frame, though some were made of wood. Often they featured intricate scrollwork of flowers and ivy, and sometimes candle holders sat at the corners. Others had a box shape, with the back panel composed of gray slate to allow for easy viewing with a magnifying glass, says Bernd Brunner in The Ocean at Home: Egret Fish TankAn Illustrated History of the Aquarium. More importantly, this panel kept the water cooler in warmer months and created a dark environment for the benefit of the fish, he adds.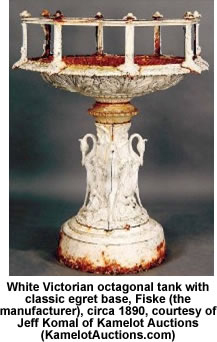 Unlike simple fish bowls, some of these fish tanks were functioning aquariums to some extent. An aquarium attempts to facilitate a small ecosystem of plants and animals found together in natural aquatic environments. The concept of an ecosystem had just been discovered, which drove the rapidly growing demand for aquariums. In May 1849, Robert Warington found that plants and animals lived together symbiotically, exchanging oxygen for carbon dioxide and vice versa, says Bob Alexander in an article on ParlorAquariums.org.uk. Everyone wanted to observe symbiosis in action, though their efforts often provided less than optimum habitat.
The craze caught on quickly. Brunner states, "By the 1860's, aquariums were being mass-produced in every possible shape and combination, often so elaborately decorated that one wondered what was more important - the contents, or the aquarium itself." Among the most outlandish was the cabinet aquarium, a "pompously decorated aquarium" (in Brunner's words) consisting of 20 glass tanks arranged from largest to smallest on a series of elaborately carved shelves with decorative scrollwork along the sides. Another outlandish form, he says, consisted of seven interconnected tanks on a table bearing ornamental scrollwork. It resided in the zoo in Frankfurt, Germany. Some fish tanks even came with a round glass attachment in which a small bird could sit on its perch and watch the fish swimming around its unfortunately small abode, Brunner adds.
Many collectors enjoyed "floating sea" fish tanks contained within a glass bell that they suspended in front of a window, Brunner says. Some used a model called the basin, or "pool" aquarium, which often included a fountain, in greenhouses and winter gardens, placing its base in the ground, he adds.
Some serious aquarists used a sloping tank, designed by Robert Warington in his efforts to create an ideal habitat for a variety of sea life, says Alexander. It had a box shape with zinc sides and a slanted bottom.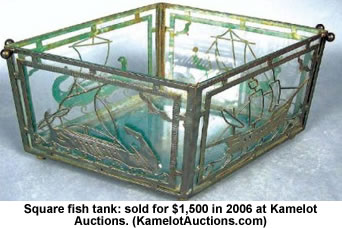 In America, the Jewel Company in Chicago and J. W. Fiske Ironworks in New York City produced many aquariums. By 1858, a London store owned by the aquarist William Alford Lloyd had a 125-page catalog featuring numerous specialty aquariums, says Zahid Sahar of the San Francisco Chronicle in "When the Aquarium Was a Novelty." The company Sanders and Woolcott also sold various parlor aquariums. In the 1920s, the Jewel Company was still manufacturing ornate aquariums with dolphin molding, which came with a stand that had sea horse legs, according to another magazine.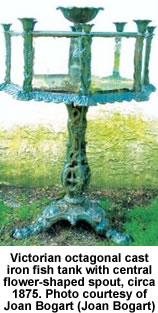 The Jewel Company also produced a smaller fish tank resembling a house, complete with faux-brick siding, windows, and shrubbery, according to antique dealer Joan Bogart. It was composed of a rectangular tank with a house façade attached at each end.
Victorians created intricate displays within their aquariums, sometimes featuring the treasures they collected on the shore. In his 1856 book The Aquarium: The Wonders of the Deep Sea, the early aquarist Philip Henry Gosse describes an intricate process of lining the opaque sides of an aquarium with cement to mimic the look of natural rock. Corals can be set in the cement, and crevices hollowed out for sea plants, he explains. He also describes placing in a tank "several large pieces of rock work, thrown into an arch form...so that the creatures could hide themselves at pleasure."
Devices for the maintaining aquariums were created such as a heating lamp used with an aquarium called the Thermokon; reflectors that brightened aquariums; and a complicated aeration system consisting of two zinc cauldrons, bellows, numerous pipes, a regulator, and a gallows, designed by Hermann Lachmann in 1889.
Despite their enthusiasm, Victorians didn't enjoy the greatest of success with keeping fish. Recent scientific discoveries masked a great amount of ignorance about how ecosystems worked. FurthermoUlmon Tankre, most people preferred salt water aquariums since the ocean was more mysterious than rivers and lakes. This meant they must purchase seawater or collect it during excursions to the sea shore, which usually proved impractical. Some began to keep freshwater tanks instead, while others abandoned the hobby altogether.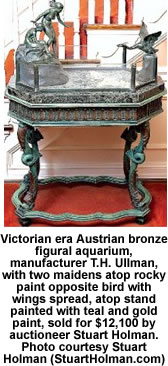 Antique Victorian aquariums often sell for thousands of dollars. Victoriana.com displays an Austrian bronze aquarium with a design featuring nude bathers and a goose, which sold for $12,100. Intended as a dining table centerpiece, it can also be displayed on its whimsically scrolled stand, which contains somewhat abstract artwork reminiscent of mermaids swimming.
Recently a cast iron Fiske aquarium with an octagonal shape and round pagoda featuring stylized horses, circa 1890, sold for $10,500 from Kamelot Auctions.
Always exercise caution when considering whether to use an antique tank for fish. Metal that comes into contact with the water can corrode, leaching toxic metals into the water. In Life Beneath the Waters, or the Aquarium in America, published in 1858, Arthur Mead Edwards says that in England, zinc was the most common material used for small aquarium frames. Iron, in his opinion a better option, was also used frequently. The bottom typically consisted of a piece of wood covered with cement and a plate of glass, although slate, as well as marble or soapstone, was sometimes used for the bottom as well, he note. In other words, these early aquariums would not live up to modern standards in terms of safety. However, collectors could use one as a terrarium or a home for a lizard instead, suggests Jeffrey Kurtz in The Simple Guide to Marine Aquariums.
In The Aquarium Fish Survival Manual, Brian Ward describes how to renovate an antique fish tank for use as an aquarium: Remove the old glass, as well as any putty or caulking, and sandpaper off any rust. Remove any dust with a clean, dry cloth. Then, paint the entire frame with rust-proofing primer. After it dries, paint it with non-toxic glass paint. Let it dry completely, then seal the new glass in with aquarium caulking.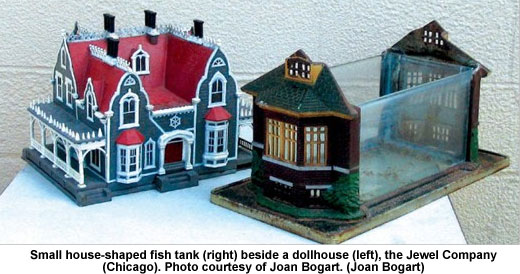 Some collectors use antique fish tanks for purposes other than fish keeping, which can add a whimsical touch to a room. They make excellent display cases for many smaller collectibles. You could fill them with sea shells or sculptures of marine life, for instance, set within colorful pebbles. Some people decorate their antique tanks with antique accessories, each as the bisque "bathing beauty" figures that became popular in the later years of the Victorian era. This can be a great alternative if you wish to continue collecting antique tanks but don't want an indefinite number of "active" tanks to care for.
References
Arthur Mead Edwards, Life Beneath the Waters: Or the Aquarium in America, NY: H. Balliere, 1858.
Bernd Brunner, The Ocean at Home: An Illustrated History of the Aquarium, NY: Princeton Architectural Press, 2005.
Brian Ward, The Aquarium Fish Survival Manual, NY: Barron's Educational Series, 1985. "Bronze Seahorse Jewel Aquarium," Another, http://anothermag.com/loves/view/943/Bronze_Seahorse_Jewel_Aquarium
Jeffrey Kurtz, The Simple Guide to Marine Aquariums, Neptune, NJ: TFH Publications, 2003.
Philip Henry Gosse, The Aquarium: An Unveiling of the Wonders of the Deep Sea, London: John Van Voorst, Paternoster Row, 1856.
Zahid Sardar, "When the Aquarium Was a Novelty: Victorian Fish Tanks Brought Mysteries of Deep into Homes," San Francisco Chronicle,