Joan Bogart - Victorian Antiques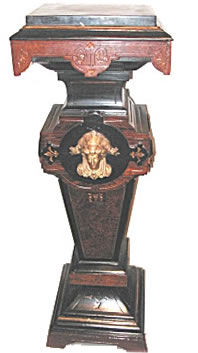 Joan Bogart has been in the antiques business since the mid 1970's. She has always specialized in high style 19th Century American Furniture Chandeliers and Accessories but also has a passion for anything related to the Victorian era. Joan has appeared and has lectured on the subject for museums and symposiums, appeared on TV with her collections, and has been written up in articles both in Victorian Homes and Old House Interior's, The New York Times & Newsday, as well as numerous antiques periodicals. Additionally, she has often consulted with various museums and historical societies related to the authenticity and relationships of different peices with a special passion for Belter furnishings.
That is why when Martin Sorcesse was creating "The Age of Innocence " she was contacted and furnished the elegant and wealthy grandmother's home. Both her lighting, furniture, and accessories were in this movie. All of these items have been sold but similar items are in inventory. Joan has also rented to "Washington Square", and most recently to Steven Spielberg's "Amistad". In that movie her lighting was especially important, and when the interior of the "White House" was shown her argand lamps were prominently placed on the mantle, and are currently in inventory as are most of the astral lamps rented to the movie. However, the studio did purchase antiques for a prop warehouse they were opening. This past summer the new hit show Mrs Maisel bought and rented Salterini patio furniture from Joan.
Museums have also bought heavily form Joan over the years, including, The Metropolitan Museum of Art, The Smithsonian Museum, The High Museum of Art, The Museum of Fine Arts in Houston, The Strong Museum, The Louisiana State Museum, The Governor's Mansion for the State of Mo. The Treasury Dept. along with numerous Southern and Mid-Western House Museums. She also regularly consults with museums and historical societies related to the authenticity and relationships of pieces.
Now via the internet these beautiful Victorian antiques are accessible to you. There are many price levels available in her extensive inventory, and she is willing to work within your budget. Joan Bogart's gallery is presently located in a suburb of N.Y.C. and is 20 min. from Kennedy Airport. Joan welcomes you to visit this 3000 sq foot gallery in Oceanside, NY. open by appointment.
Notable Articles about Joan
Antique Dealers Shine in Supporting Roles - Nancy A. Ruhling - 1998